Additional Resources
For the most updated statewide information, please go to the MDHHS Coronavirus Disease 2019 web page here.
You can register for the Saginaw County Emergency Notification system by signing up here.
If you are looking for resources in our community, please try contacting 2-1-1 OR reference the Saginaw County Community Resource Guide here.
Please see the following printable fact sheets for additional information and resources:
The 3 Ws: Your Best Defense Against COVID-19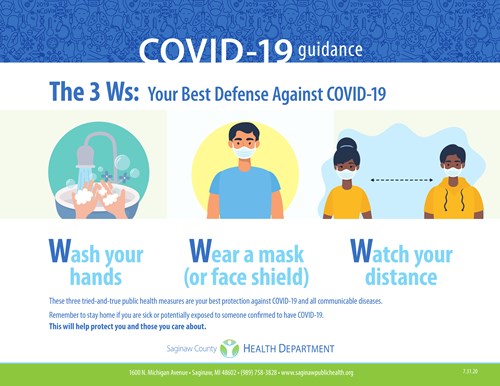 Graduation & Summer Parties            Guidance for Day Camps
COVID-19: Reduce Your Risk            Protect Yourself and Others

            English // Spanish                         English // Spanish
Symptoms of COVID-19                 COVID-19 Symptom Check List

            English // Spanish                           English // Spanish
What to do if you are Sick                Quarantine vs Isolation

            English // Spanish                           English // Spanish
What Can You Do - High Risk              Stop the Spread of Germs

            English // Spanish                           English // Spanish
Facts About COVID-19                          COVID-19 and You

            English // Spanish                             English // Spanish                 

Testing Process                                   Antibody Testing

            English // Spanish                             English // Spanish     

I Think I've Been Exposed                COVID-19 and Pregnancy

            English // Spanish                             English // Spanish    
Priorities for Testing                      Testing Does Not Change Treatment
            English // Spanish                           English // Spanish                              
Use of Cloth Face Coverings              Shopping and Handling Groceries
            English // Spanish                              English // Spanish         
Resources for Parents with Children at Home
FEMA Reimbursement: COVID-19 Public Assistance