COVID-19 Vaccine


Those who are unable to register online or don't have a family member to assist may call the Saginaw County Commission on Aging for help! Just call (989) 797-6880. Staff will take your name, address, cell phone, and email address and enter you into the health department's system to reserve your dose.

COVID-19 Update - 1/15/21
As part of our partnership to implement the complex task of vaccinating priority groups for COVID-19, the Saginaw County Health Department, Ascension St. Mary's and Covenant HealthCare announced jointly today that Saginaw County is wrapping up Phase 1A after vaccinating more than 7,500 healthcare workers with at least one dose and is ready to move to Phase 1B as doses allow.  
 
Phase 1B will focus on adults 65 years and older, pre-K thru 12 school and childcare staff, fire/police, corrections workers, and staff at homeless shelters and child & protective services – followed by workers in critical infrastructure businesses. This group accounts for well over 20% of Saginaw County's population, and there currently are not enough doses to vaccinate everyone. It will likely occur in smaller groups as doses become available, potentially taking several months to complete.
 
To keep phone lines open for essential patient care, please do not call the health department or the hospitals for appointments unless instructed to do so. Questions about registration or vaccination for Phase 1B should be directed to covidvaccine@saginawcounty.com.


COVID-19 Update - 01/11/21
Saginaw County has approximately 5,000 health care workers who are currently being scheduled for vaccinations as part of CDC's Phase 1A prioritized category. Doses are extremely limited throughout Michigan, including Saginaw, and unfortunately Saginaw will NOT be vaccinating 65 years of age and older beginning on Monday, January 11th. We have started taking reservations for this age group. If you are 65 years or older, or registering on behalf of a loved one, please fill out the link here to get on our list. Someone from the Health Department will reach out once we are ready to schedule your vaccination in the coming weeks or months. If you need assistance filling out the form, please call the Saginaw County Commission on Aging at 989-797-6880.
COVID-19 Update - 12/30/20
The first priorities include health care workers providing direct care, people who will be vaccinating others, and residents in long-term care settings. If you are a health care worker who is not being vaccinated through a larger organization and will need to be vaccinated through the Health Department, please complete this online survey. **Other types of organizations may also complete this survey, but remember that you will not necessarily receive additional information until we move on to additional phases of vaccination. 
COVID-19 Update - 12/18/20
Our initial shipment of COVID-19 vaccine has arrived (975 doses)! Plans are in place to start vaccinating our vaccinators and clinic staff immediately so they can vaccinate others.  First priorities (1A) include vaccinators, long-term care facilities, EMS, and frontline heath care providers not already being vaccinated through a hospital or health system.
Many vaccines aimed at preventing COVID-19 are currently being developed and tested in the United States, with two COVID-19 vaccines becoming available in late December 2020 or early 2021 to high priority groups as supply allows. Two companies, Pfizer and Moderna, have completed Phase III of testing and have been granted Emergency Use Authorization (EUA) from the U.S. Food and Drug Administration (FDA). Pfizer was granted EUA on December 11, 2020, Moderna on December 18, 2020 - both opening the door for vaccine distribution and the beginning of a mass vaccination effort.
Vaccine manufacturers will release a limited supply of COVID-19 vaccines during the first few months that they are available.
Distribution
The Advisory Committee on Immunization Practices (ACIP) has recommended that residents and employees of nursing homes and similar facilities and health care workers be the first people in the United States to receive the COVID-19 vaccine. States have the option to tailor vaccine priorities for their state. 
Michigan has released prioritization guidance in accordance with the ACIP:
Phase 1A includes paid and unpaid persons serving in health care settings who have direct or indirect exposure to patients or infectious materials and are unable to work from home, as well as residents of long-term care facilities.
Phase 1B includes workers in essential and critical industries, including workers with unique skill sets such as non-hospital or non-public health laboratories and mortuary services.
Phase 1C includes people at high risk for severe COVID-19 illness due to underlying medical conditions, and people 65 years and older. 
Phase 2 is a mass vaccination campaign for all individuals 16 years and older. 
COVID-19 vaccine planning is being updated as new information becomes available. Receive updates from the Saginaw County Health Department by registering your email address.
For answers to frequently asked questions regarding the vaccine, please visit our Frequently Asked Questions page here.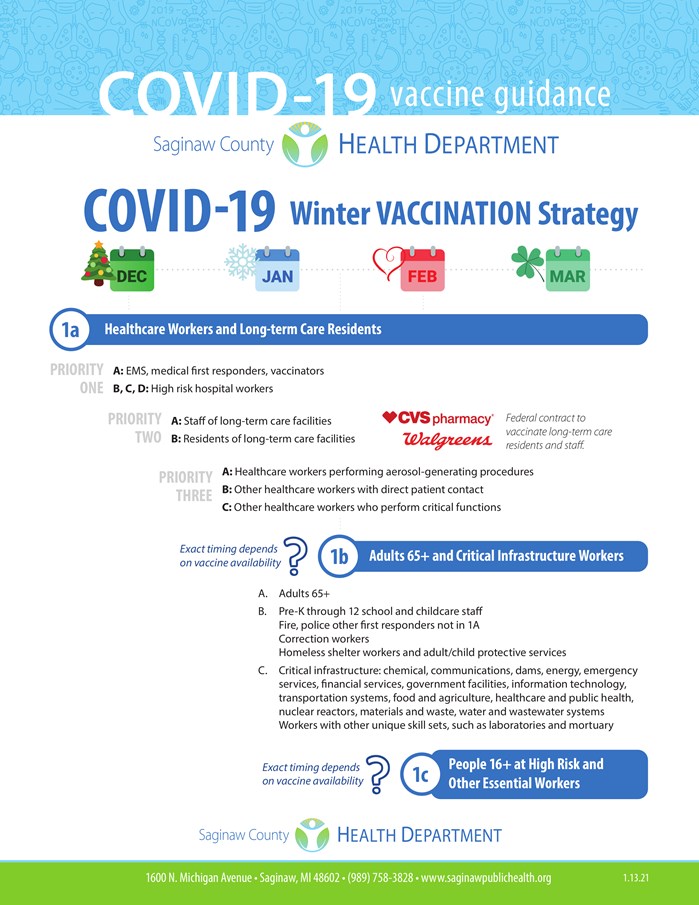 What does this mean for me? 
Initial vaccine supplies are expected to be small. The first priorities include health care workers providing direct care, people who will be vaccinating others, and residents in long-term care settings.
For everyone else, please be patient. It may take weeks or months to move through the phases, depending on supplies and as illustrated below. We are working as fast as possible to provide more detailed information. 
There will be no cost to individuals for the COVID-19 vaccination.