Information for Businesses and Employers
With more businesses opening and planning for gradual reopening, the following will help provide an overview for owners and managers.

Through collaboration with several local health departments around the state, the Saginaw County Health Department has assembled a comprehensive toolkit of resources for businesses to use as they plan for re-opening, including public health guidance for many different industry sectors.
 
We invite you to share this toolkit, asking you to recognize it as a fluid document that will change as management and mitigation of COVID-19 changes in our state.
COVID-19 Preparedness and Response Plan
In accordance with the latest Executive Order issued by Governor Whitmer, businesses that are able to open are required to develop a COVID-19 Preparedness and Response Plan. This is a printable template that will satisfy this requirement.
COVID-19 Preparedness and Response Plan
Water Safety Guidance as Businesses Reopen
As our County's businesses begin to return to work, building owners and operators must be prepared to ensure that their water systems are safe to use after prolonged shutdown to minimize the risk of Legionnaires' disease and other disease causes by waterborne pathogens.
Guidance for Reopening Buildings After Prolonged Shutdown or Reduced Operation outlines an 8-step checklist and was developed with the help of the Michigan Department of Health and Human Services and the CDC.  If Saginaw County businesses have questions about water safety in their facilities, we encourage them to call our hotline at (989) 758-3828.
COVID-19 Guidelines For Fitness Centers
As fitness centers - including gymnasiums, recreation centers, sports facilities, exercise facilities, and exercise studios - begin to open, please follow the following guidelines from MIOSHA:
COVID-19 Guidelines for Fitness Centers
Additional Resources
COVID-19 Workplace Safety
MEDC PMBC PPE Procurement
Mask Up, Michigan
Quarantine Fact Sheet
Symptomatic Employee                  COVID-19 Workplace Screening
Social Distancing at Work           Evaluation of Close Contact - Return to Work
Keeping Commercial Est. Safe           Keeping the Workplace Safe
Interim Guidance for Businesses        COVID-19 Screening Guidelines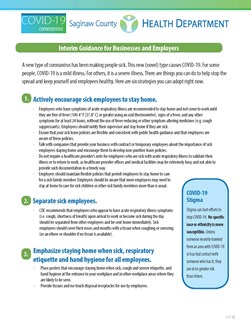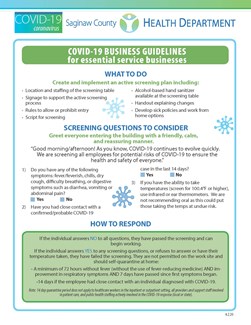 COVID-19 Cleaning and Disinfection   

For more information and guidance on essential versus non-essential workers, please visit the State of Michigan website here.   
Frequently Asked Questions