Information for Schools and Childcare Facilities
School Reporting Form
Spring Break Guidance

To help guide you on safe protocol for spring break travel and return to work or school, we have created a fact sheet with our recommendations.  

COVID-19 Return to School Toolkits
Saginaw County Health Department recently created tool kits to assist administrators in their return to school preparedness plans. Please know that these are fluid documents that do change over time as guidance we receive from CDC changes and evolves.  
COVID-19 Return to School Toolkit (A)                     COVID-19 Return to School Toolkit (B)
Providing Guidance to Educators for Fall 2020
On July 16th, SCHD hosted a webinar for our county's school leaders to provide guidance as they develop their COVID-19 Preparedness and Response Plans to protect students and educators as part of the MI Safe Schools Roadmap. 

In addition to answering their questions and developing materials for their use, SCHD also addressed the following:
Data sharing needs
Positive case notification to the health department and families
COVID-19 investigation and contact tracing protocols we have developed and how schools will be involved
Mitigation strategies including PPE, social distancing, minimizing risk by reducing common areas, keeping classrooms together as much as possible, and more.
The webinar was recorded and can be found here.
Providing Guidance to Parents for Fall 2020
In an effort to help Saginaw County parents weigh their decision to send their children back to school or keep them home for virtual learning, Saginaw County Health Department hosted a Parent Forum on Wednesday, August 12th. Click here to view this event.
Guidance Documents from Return to School Toolkit (Part B)
Guidance Document for Day Camps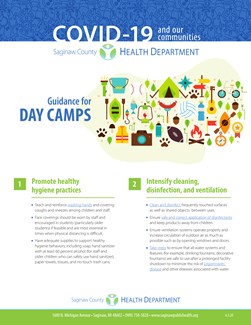 Presentations
July 15 - Saginaw County COVID-19 School Planning Meeting               August 14th - Follow-up Superintendents Meeting
August 12th - School Re-Opening Parent Forum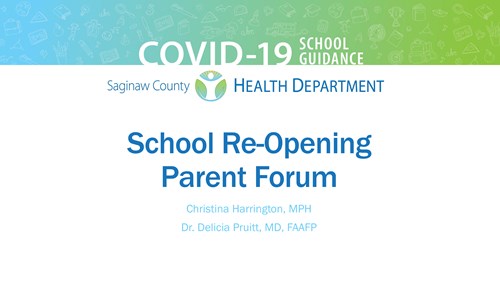 Additional Resources
The MI Safe Start Roadmap contains recommendations and guidelines outlined for schools to follow as they plan on returning to the classroom this fall including guidance on wearing masks, hygiene and cleaning protocols, athletics, and more.  School districts will be required to adopt a COVID-19 Preparedness and Response Plan laying out how they will protect students and educators across the various phases of the Michigan Safe Start Plan, with in-person instruction allowed if we are minimally in Phase 4.
Child care providers across the state have always prioritized the health and safety of the children in their care. With the spread of COVID-19, new health and safety protocols are necessary to ensure children, families, and staff members are as safe as possible. 
This document provides tools to help you make the best decisions possible to limit the spread of COVID-19 and to create safe spaces for children and staff members.
LARA Guidelines for Safe Child Care Operations During COVID-19
Frequently Asked Questions