Safe Sleep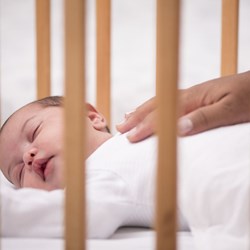 We offer safe sleep education and services for pregnant and new mothers.
We know that it can be tempting to bring your baby to bed with you, or let your baby sleep in a bouncy seat just so you can get some rest. But the fact is that a baby dies every three days in Michigan and these deaths are 100% preventable.
Take the time to learn how to put your baby to sleep safely each and every time by following these simple steps:
Baby should sleep alone in a crib, pack'n'play, or bassinet.
Always put baby on back to sleep even when he/she can roll over.
No pillows, blankets, comforters, stuffed animals or other soft things should be in the sleep area.
Keep baby's face uncovered during sleep for easy breathing. Use a sleeper instead of a blanket.
Don't allow anyone to smoke around the baby.
Don't overheat the baby. Dress the baby what you are wearing plus 1 more layer (if you have shorts and a tank top on, put baby in long sleeves and pants).
Use a firm mattress with a tightly fitted sheet.
Place baby in the same sleep position everytime.
If you want more information on Safe Sleep or you are pregnant with your 1st baby and less than 28 weeks gestation, fill out our contact form and our staff will contact you directly.
Resources